January 26th 2022
Launch of Digital Youth Month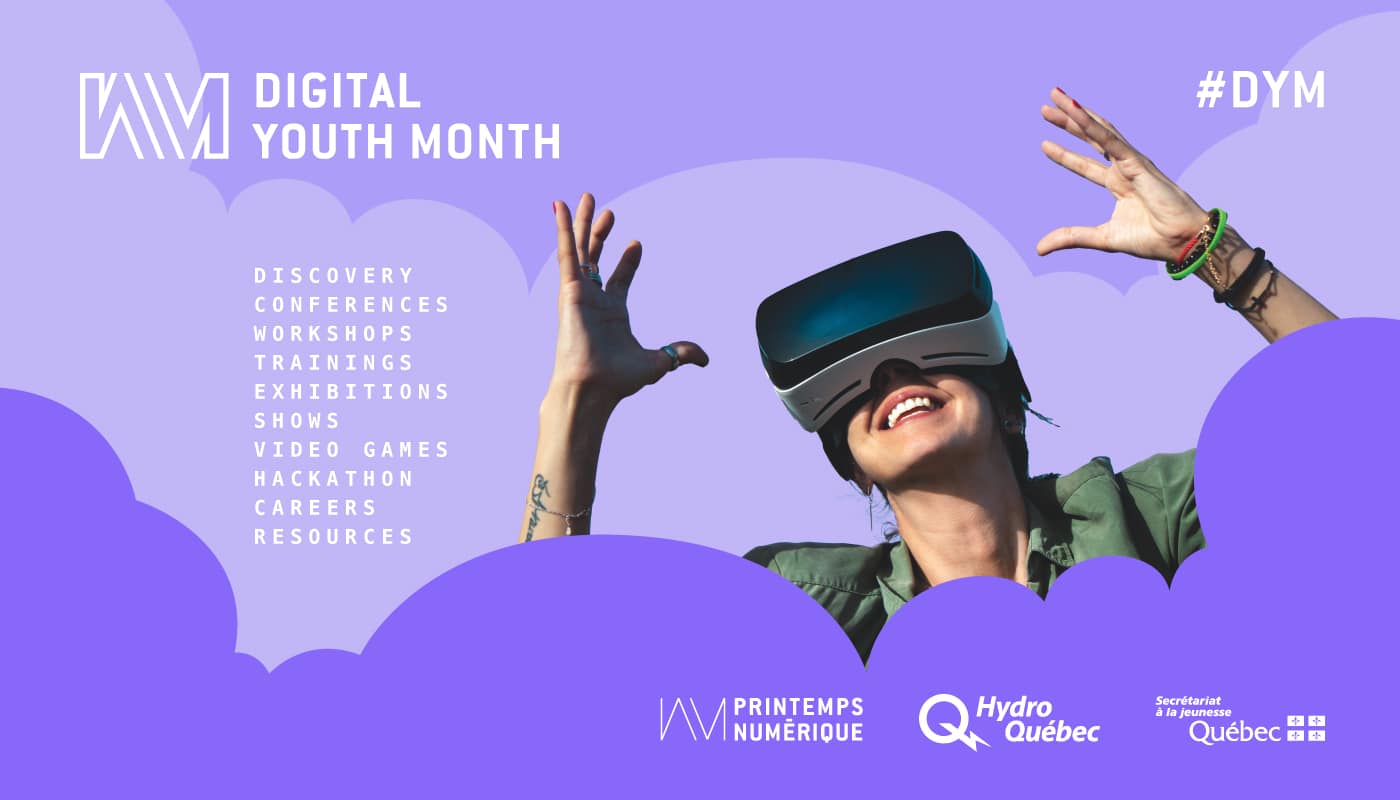 3rd edition of the Digital Youth Month
The digital age, a world of possibility!
Montreal, January 26th, 2022 – Digital Youth Month (DYM) will be held February 1 through March 6. An annual event aimed at young people under 35 who will be able to discover a wide range of activities and resources online thanks to a new programming platform (WWW.DYM.QUEBEC).
Types of activities included in the programming 
Workshops and trainings ✺ Conferences ✺ Discoveries ✺ Exhibitions ✺ Shows ✺ Video games ✺ Hackathon Careers ✺ Youth and teacher resource directory
Jonathan le Prof, the 3rd edition ambassador of the DYM
The high school social studies teacher from Rouyn-Noranda
 is well known as an educational influencer on social media: "Allowing young people to use the Web in an entertaining way while becoming informed is a way to get their interest! Facilitating access to online resources is also a way to ensure equal opportunity. Young people living in remote areas, in particular, may have less access to facilities where they can experiment with technology. The Digital Month platform allows them to do this, in addition to learning about various issues such as algorithms and their impacts."
"Studying, working and communicating in the digital age has its share of challenges! We are fortunate to count on various actors in Quebec who are developing innovative activities and tools to accompany young people so that they can become awake, critical and creative citizens",

explains Mehdi Benboubakeur,
Executive Director of Montreal Digital Spring (Printemps numérique).
As the development of digital skills and the future of young people is everyone's business,  Montreal Digital Spring and the organizing committee (École Branchée, Communautique, Tobo, Réseau des Carrefours jeunesse-emploi du Québec and Musée de la civilisation de Québec) have united their efforts to bring together a pan-Quebec community in digital literacy.
In addition to the calendar of activities, to raise awareness of the issues of the Citizen's Charter in the digital age, "transparency" is in the spotlight this year: all users should be able to access understandable information about the processing, distribution and storage of their data.
Montreal Digital Spring, which initiated the event, will also offer its own activities as part of the programming:
– 30 –
About the author
Manon Michaudet