November 22nd 2021
Call for participation: Digital Youth Month 2022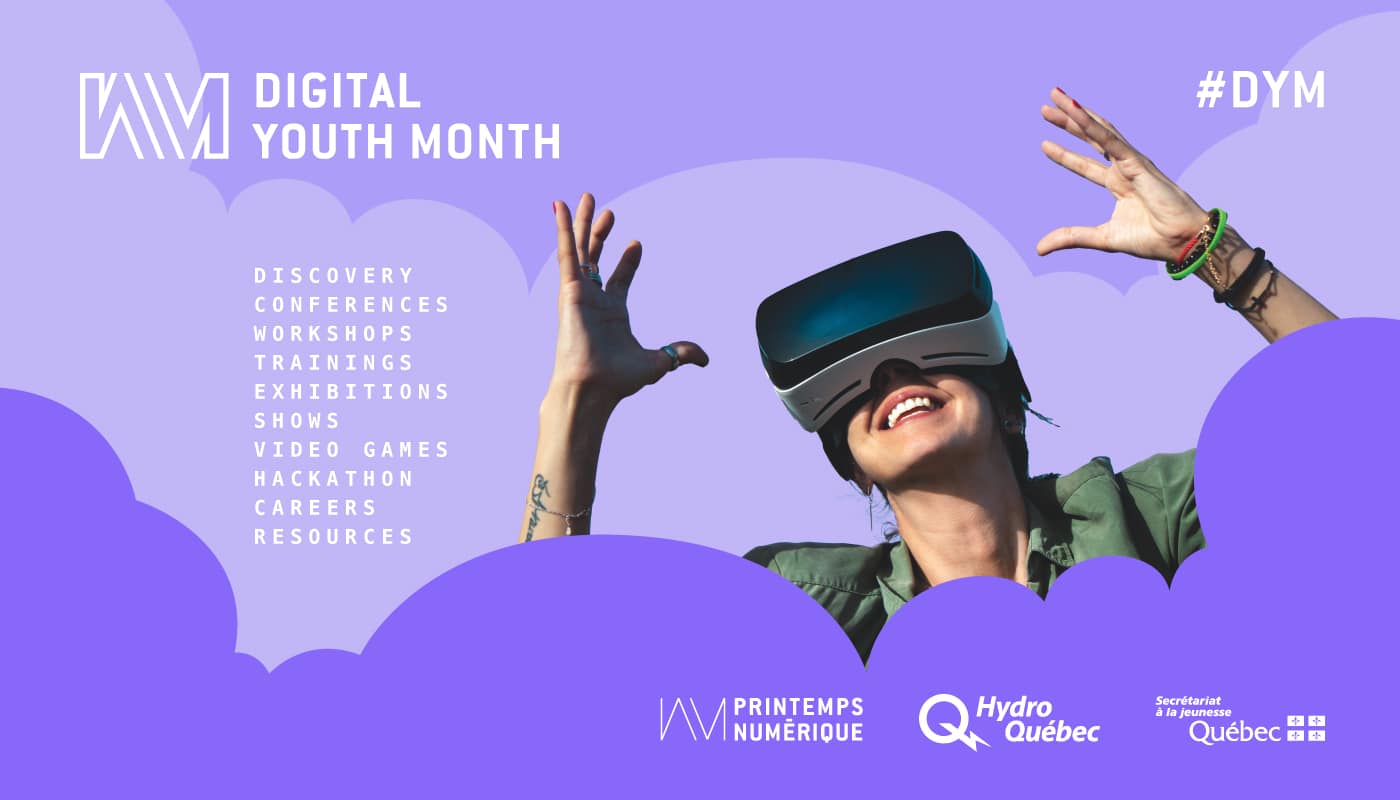 Montreal, November 22nd, 2021 – For the third edition of Digital Youth Month (DYM), Montreal Digital Spring (PN) is joining forces with partner organizations that take digital literacy issues at heart in Quebec: L'École Branchée, Communautique, Tobo, Réseau des Carrefours jeunesse-emploi du Québec and the Musée de la civilisation de Québec are joining the collective movement to invite institutions, schools, organizations and enterprises to become collaborators and present one or more activities.
DYM is an annual event that takes place throughout the month of February and March break. It aims to raise awareness of digital opportunities among young people and their environments. It is also an opportunity to introduce them to Quebec's digital literacy initiatives and the careers of tomorrow.
For this new edition, a programming platform will be launched with a multitude of activities and resources for youth and their communities.
In 2022, the main theme that will be highlighted is "transparency", one of the issues of the Citizen's Charter for the Digital Age, developed in collaboration with the Commission on Ethics in Science and Technology. All users should be able to access understandable information about the processing, the distribution and the storage of their data.
Participation Objectives and Benefits:
To present an activity that mobilizes the participation of youth and their environments;
Bringing together a pan-Quebec community of practice in digital literacy ;
On the occasion of Digital Youth Month, to offer an activity that contributes to inclusion, equality of opportunities and the development of digital and critical skills of young citizens.
Eligibility Requirements:
Working, in particular, with a youth clientele;
Representing an institution, an educational environment, an organization or a company established in Quebec;
Offering an activity or a resource that allows the development of digital skills of young people (see some examples below);
Subscribing to the values and issues of the Charter for Citizenship in the Digital Age.
Who is the Digital Youth Month intended for?
All young people under 35 years old who want to explore the possibilities of digital technology, develop their technical skills and knowledge
Youth targeted by age groups:
– Children (12 and under)
– Teens (13-17 years old)
– Young adults (18 and older)
Girls
Indigenous youth
Young people in school environments (from elementary to higher education)
Families and the general public
What types of activities and resources can be submitted?
Workshops and trainings ✺ Conferences ✺ Discovery ✺ Exhibitions ✺ Shows ✺ Video games ✺ Hackathon ✺ Careers ✺ Digital resources for youth
✺ Digital resources for speakers and the general public
Examples of activities:
DÉJOUEZ L'I.A. EN RÉSEAU ! 

by

 Grandir Sans Frontière: Workshop for elementary and high school students to understand how programming and training an artificial intelligence affects its performance and what the risks are.
FabLab autochtone by Centre d'Innovation des Premiers Peuples: An open space where a variety of computer-controlled machine tools and traditional native tools are available to design various projects.
Technovation by Technovation Montréal: An international mobile app creation competition that aims to develop technology and entrepreneurship skills for girls aged 10 to 18.
Examples of digital resources:
Kat'Ia 

by

 CScience Le Lab: videos and digital educational kits on new technologies and artificial intelligence, alongside Kat' AI and Algo.
Dates to remember:
From mid-December until the end of spring break in March: release of activities on the programming platform;
Monday, January 10, 2022: deadline for completing the participation form;
The week following the sending of your form: confirmation of reception and selection of the entry form;
Tuesday, 1 February 2022: official launch of the Digital Youth Month;
Throughout DYM and Spring Break: realization of the activities (in the case of a year-round program, the activity must take place at least in part during the DYM).
Following their registration, collaborators will receive an information kit to facilitate the diffusion of their activities during the event.
For any questions, contact Leticia Lacroix, Digital Literacy Project Coordinator, [email protected].
For its organization, Montreal Digital Spring relies on the Digital Youth Month 2022 Committee:
Martine Rioux, Web Editor and Special Projects Manager, École branchée ;
Annie Ferlatte, Mediator in strategic ecodesign, Communautique;
Judith Beauregard, Co-CEO | Executive Producer, Tobo ;
Samantha Lopez Uri, Youth Advisor, Réseau des Carrefours jeunesse-emploi du Québec ;
Anne-Josée Lacombe, Charged of educational projects | Musée de la civilisation de Québec.
About the author
Leticia Lacroix